Since 1911, when the first International Women's Day was celebrated and supported by over one million people, every 8th of March is another reminder of the inequality and another step towards the achievement of a world with equal opportunities for sexes. On the occasion of this year's IWD, SAFETY4SEA focuses on a very specific aspect of sex discrimination: Women in leadership roles.
The participation of more women in leadership roles is a major field of the global fight to equality. Although an estimated 47% of the total labor force consisted of women, a recent review of S&P 500 companies revealed that women hold less than 5% of CEO positions.
Under its Sustainable Development Goal 5 on gender equality and empowerment of women and girls, the United Nations aims, among others, to 'ensure women's full and effective participation and equal opportunities for leadership at all levels of decision-making in political, economic and public life.'
Extending the scope of this fight, women in leadership position remains a hot issue across all business sectors, and maritime included. Of 6,500 engine officers at sea currently, only 1% are estimated to be female. According to HR Consulting, over 76% of the women's workforce operated at administrative, junior and professional level roles in 2017, with few reaching managerial levels or higher. The survey also found that women employees were heavily weighted at the junior level and 90% of all other employees were men, suggesting that there were indeed few opportunities for women to progress in such functions.
Especially in the shipping industry, which is considered as a male-dominated sector, women would be rarely seen in senior leadership positions before; however, discussions over a more sustainable future have brought a sea of change in the shipping industry in this important topic and now we witness women rising up the ranks!
Women in maritime: where we stand
The last months have been an interesting year for women in shipping. IMO has recently shed its efforts to raise awareness on the issue, with the decision to set 'Empowerment of women in the maritime sector' as the theme of World Maritime day for this year, while it has supported several trainings for women in port management, over the recent months.
Additionally, following approval by IMO Council, WISTA is able from 2018 and beyond to use its consultative status to promote diversity.
#6 quick facts for 2018
Women were promoted in key management positions in the past year:
EMSA Administrative Board nominated Ms. Maja Markovčić Kostelac as the next EMSA Executive Director.
Sadan Kaptanoglu was selected to become BIMCO's first woman President in June 2019.
Ms. Quah Ley Hoon has been appointed as the Chief Executive of the Maritime and Port Authority of Singapore (MPA), as from 1 January 2019.
As of 12 December 2018, Thailand's former Prime Minister, Yingluck Shinawatra, has been appointed as the chairwoman of Shantou International Container Terminal (SICT), operated by Hutchison Ports and located at China's eastern Guangdong province.
At the annual IMO Awards ceremony in December, IMO Secretary-General Kitack Lim presented the International Maritime Prize for 2017 to Mrs. Birgit Sølling Olsen, former Deputy Director-General of the Danish Maritime Authority.
At the start of 2019, Mrs Suzanne Beckstoffer took the helm of SNAME (Society of Naval Architects and Marine Engineers) as President, being the first woman to hold this position in the association's 125-year history.
(Women's) full and meaningful participation in the economy, political decision-making and society is key to addressing maritime challenges,
…said IMO Secretary General Kitack Lim in his welcoming address to the 6th session of the Sub-Committee on Pollution Prevention and Response (PPR6) in February.
Female vs Male leaders
Either in the maritime or in any other industry, the fact that mostly men are those who are holding leadership positions may have its routes to stereotypical behavioral models, derived from patriarchy, which shape men and women from their very first years of their lives, creating perceptions that men are more effective leaders.
In some cases, even women think that men are better leaders. According to a recent survey, women show a preference for male leaders.
Did u know?
According to WISTA, Norway was ranked first in gender equality in the maritime in 2017, where women accounted for 42% on company boards.
What are the key characteristics of women leaders? 
Research has examined whether or not there are sex differences in leadership; what it is evident, whatsoever, is that a lot of progress has been made on our professional lives over the last 50 years, bridging the gap between males and females.
Open communication: Women leaders teen to communicate openly, visiting their team members, inspiring them, offering guidance as well as encouragement aiming to transform them into professionals.
People-oriented: Instinctively, females are natural givers; they care more about their team members' well-being than males do, and show highest levels of emotional intelligent than men – they feel the need to share their feelings.
Focus on details: In most cases, females are masters in paying attention to details, which means they have a strong ability to track, assess and manage change.
Organized: Study shows men are less organized than women, mainly when switching quickly between tasks. Women hormones play a major part in this discrepancy.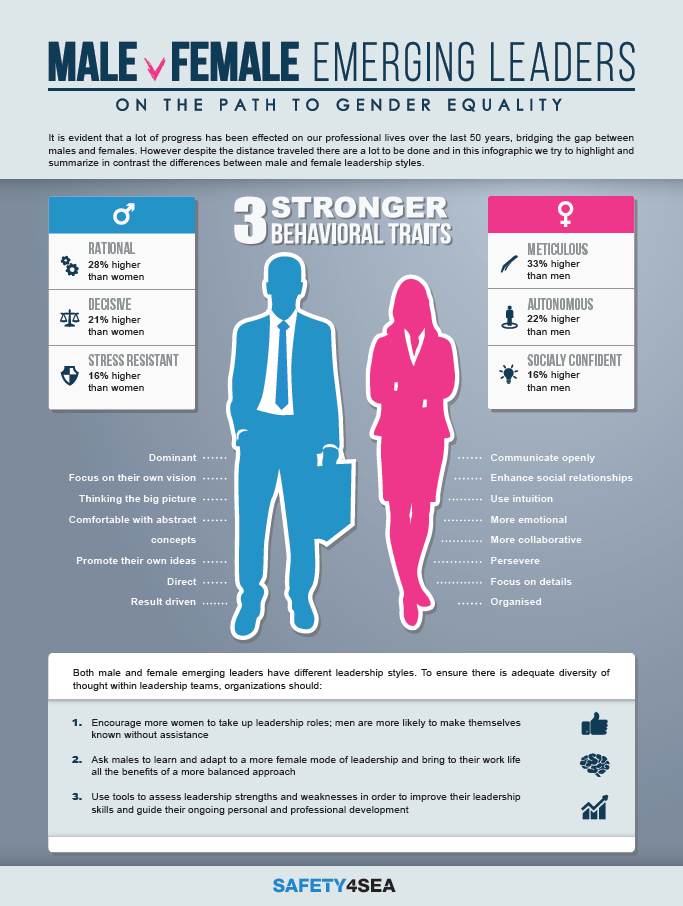 The gender pay gap and the market
Gender imbalance also reflects in gender pay gap. According to EU figures released in late 2018, women in Europe earn 16.2% less than men. In in the maritime field, the figure climbs to 45% in global scale.
According to ILO figures, the top three gender gaps in the world of work are:
Equal Pay – 20%
Employment – 26%
Management and leadership – 27%
Strengthening women's leadership for sustainable development
A report published by Credit Suisse in 2016 showed that companies with at least one woman director received a better return on their investments compared with companies with all-male boardrooms.
Meanwhile, a new report released this week by the International Finance Corporation (IFC), a member of the World Bank Group, revealed that private equity and venture capital funds with gender-balanced senior investment teams generated 10% to 20% higher returns compared with funds that have a majority of male or female leaders.
The same study showed that if women fully participated in formal labor markets, GDP would increase by $28 trillion.
In addition, in a 2018 report, WomenRising2030, an initiative launched by the Business and Sustainable Development Commission, argued that women's leadership in business is critical to driving significant economic opportunities and driving better performance– opening opportunities for more than US$12 trillion in new market value linked to the Sustainable Development Goals.
Business Commission has found that there is a $12 trillion economic prize for businesses that invest in UN SDGs. In the meantime, another research by McKinsey revealed that investments in workplace gender equality could add $28 trillion to the global annual GDP by 2025.
These are only a few indicators ringing the bell for global community to shed efforts for enabling more women in core business positions. Equal empowerment of women and men means more people are able to contribute to financial life, with the plus of diversity through a more collective decision making.
Five inspirational quotes to SAFETY4SEA by women who maintain leadership roles in the maritime field provide an answer:
The world is moving so fast, and information is delivered at lightening speeds, miscommunication and misunderstandings are rife. Women are more prone to "active listening" and understanding nuances, which enhances the opportunity for work to be successful.
-Carleen Lyden Walker, Chief Evolution Officer, SHIPPINGInsight  & IMO Maritime Ambassador
While women can bring the same professional skillset as men to our industry, women also bring different perspectives and viewpoints, which add value, oftentimes allowing a company to better understand and respond to customer and client needs. Research over the years has made clear that companies with diverse workforces perform better financially.
– Jeanne M. Grasso, Partner, Blank Rome
It should be recognized that women leaders may often deliver different strengths, viewpoints and perspectives, lending new insight and balance and serving to actually empower the senior management team—a benefit to the organization.  In such roles, women assist to effect change and create readiness for a future that is inclusive of quality leaders, both women and men!  And women in senior leadership roles serve as an inspiration for the next generation of talented professional young women who may wish to consider entering our the maritime industry.
– Cynthia Hudson, CEO, HudsonAnalytix
It is a serious threat to the development of international maritime activities, if we lose out on 50% of the available work force, just because we are stuck in a culture of gender bias.
– Sofia Fürstenberg Stott, Strategic Lead for Opening Oceans Conference, Business Development Manager, Nor-Shipping
Women have the means to cover many topics and issues at one time. The ability for women to "multi-task" effectively is widely documented.  This ability allows them to focus on the important issues but also be dedicated to the long-term goals for a company or institution to envision the future.
– Debra DiCianna, Senior Compliance Engineer, Choice Ballast Solutions, LLC.
Concluding, gender balance is essential for economies and communities to thrive. To ensure there is adequate diversity of thought within leadership teams, organizations should encourage more women to take up leadership roles. The 8th of March is a good opportunity to remind the world that gender imbalance is still an issue that needs to be addressed, but gender discrimination occurs every month, every day, every hour. Men and women can both be effective leaders. There is nothing about gender that makes one leader better than another.
---
In case you missed it #ICYMI
On the occasion of International Woman's Day 2019, WISTA International launched on 7 March a Diversity Pledge for inclusion of women in the shipping industry:
I pledge to embrace diversity of thought (including gender, race, ethnicity, and age), and contribute to a merit-based business environment within my organisation. I will be a champion of equal opportunity and equal pay. My behaviour will reflect how I wish our industry to behave in the future. I will work – and encourage others to work – toward a diverse and inclusive maritime sector.