Maritime Knowledge
Alexander L. Kielland: Norway's worst offshore disaster
As part of its 'Learn from the past' series, SAFETY4SEA is focusing today on the fatal capsizing of the oil platform Alexander L. Kielland in the North Sea, the worst disaster in Norwegian offshore history since World War II. Losing one of its five legs amid a storm, the platform killed 123 people, shocking the local community in Norway and marking as a reminder of how a structure failure can take so many lives.
Maritime Knowledge
Piper Alpha: The world's deadliest offshore oil disaster
Over 30 years after the Piper Alpha oil platform suffered multiple explosions off Scotland taking lives of 167 people, SAFETY4SEA analyzes the North Sea disaster which made the oil and gas industry to look safety in new terms. The 6th July 1988 was a normal day for 226 crew members onboard the Piper Alpha, an oil production platform located in the North Sea off Aberdeen, Scotland.
Maritime Knowledge
Sanchi: The world's worst oil tanker disaster in decades
"Maintaining a proper outlook" seems a commonplace, but maritime history has showed that improper outlook can lead to tragedies beyond imagination. SAFETY4SEA is focusing today on the Sanchi disaster, which claims the world's worst oil tanker disaster in decades, less than two years after it collided with 'CF Crystal' on East China Sea and took lives of 32 people while causing a vast oil pollution.
Maritime Health
Singapore announces additional measures against COVID-19
Additional precautionary measures have been announced by the Singapore Ministry of Health (MOH), in view of the heightened risk of imported COVID-19 cases.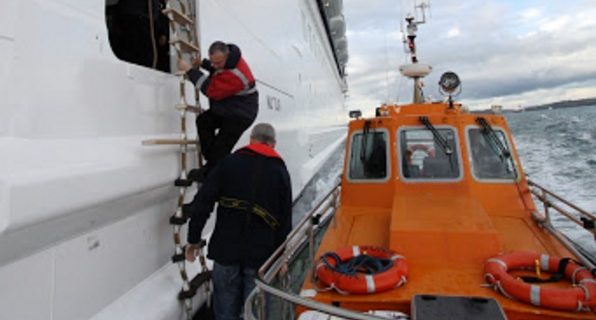 Maritime Health
Pilotage operations during COVID-19
The UK Maritime Pilotage Association has issued circulars providing guidance and best practices during COVID-19 challenging times, since in the coming days and weeks, it is anticipated that vessels with suspected cases onboard may request pilotage services.
Detentions
Cargo ship banned from Paris MoU region
PSC authorities detained the general cargo ship M/V "BISLAN" in Port of Azov, Russia, on 11 March 2020, Paris MoU informed. This is the third detention in the Paris MoU region within the last 36 months.
PSC Focus
Indian Ocean MoU: Guidance for dealing with COVID-19
The Indian Ocean MoU authorities have agreed to adopt pragmatic guidance, understanding necessity to deal with crucial circumstances (such as extending periods of service onboard of seafarers, delaying periods for surveys, inspections and audits, etc. as necessary) amid the COVID-19 pandemic. The guidance focuses on challenges related to MLC Convention (2006) and to relevant IMO Conventions.
CIC
Indian Ocean MoU: Key results of CIC on emergency systems
The Indian Ocean MoU shared its preliminary results on the Concentrated Inspection Campaign (CIC) on Emergency Systems and Procedures that took place in the region from 1 September 2019 and 30 November 2019. During that period, IOMOU authorities detained a total of nine ships for issues related to the CIC.
Green Shipping
COVID-19 to impact global energy markets, Rystad report reveals
In a recently published report, Rystad Energy notes that the coronavirus pandemic should be expected to last for the entirety of 2020 and provides possible scenarios and impact on the global energy markets.
Maritime Knowledge
Leadership at sea: What makes a great Captain
Leadership, as a special component of safe operations at sea, is a skill resulting from a complex combination of mindset characteristics which can be learned, argues Capt. VS Parani, naming the key features he believes to be the most critical for a great leader at sea.
Opinions
Wellness at sea: Training and surveys
During the first SAFETY4SEA Forum in Manila, Gavin Lim, Regional Development Manager for Asia, Sailors' Society talked about wellness at sea training and surveys, highlighting that companies should adopt new ways to engage in promoting on board health and well-being.
Maritime Health
Feeling stressed onboard: Symptoms and key actions
Fighting stress onboard is both challenging and crucial. Although much of our everyday stress can be useful in a way of noticing a problem or the pressures that we face, triggering us to act, in general, repeated and prolonged stress  may have negative effects on our mental health. 
Regulation
India sets out rules for ships to tackle COVID-19
India established rules to make sure that trade will resume, amid the COVID-19 pandemic. Vessels arriving at Indian port after 14 days of departure from an infected port, do not have to comply with the additional precautionary measures.
Fuels
IMO Sulphur Cap Recap: Where we stand and what's next
As we are two months into 2020, IMO's sulphur cap is being implemented worldwide and considering the radicality of the new regulation, its implementation has been smooth so far. However, that does not mean that there are no breaching cases, while the discussion regarding the best way to comply has heated up.
Opinions
Port Call Data Sharing Platforms
During the 2020 SMART4SEA Athens Forum, Andreas Chrysostomou, Chief Strategy Officer, Tototheo, presented the concept of data sharing platform and the importance of collaboration between all the shipping sectors.
Maritime Software
Smart tools to monitor Coronavirus spread
The newly identified Coronavirus has made world headlines given its rapid spread and as number of infected or dead people keeps on increasing. To closely monitor the situation and keep track of the incidents and fatalities two applications have been launched.