This campaign involved member States of the BS MoU, parties to the MARPOL Annex VI, and was conducted in conjunction with the Tokyo MoU, Paris MoU and other MoUs. Paris and Tokyo MoUs guidelines and questionnaire were used.
Key figures
During the campaign, a total of 781 inspections were carried out with the CIC questionnaire, involving 781 individual ships.
Of this quantity, 55 ships were detained without detentions being within the CIC scope.
The most unfavourable results related to rechargeable systems containing ozone-depleting substances and ozone-depleting substances record book maintained (46.2%) and alternative arrangements, (e.g. scrubbers) (30.5%). A total of 139 questionnaires had at least a non-compliance to a requirement, resulting 17.8% of CIC inspections.
The most favourable results related to whether bunker delivery notes indicate that fuel oils delivered and used onboard is not exceeding the maximum allowed sulphur content appropriate Q2 (0.3%).
The overall average per cent of non-conformities was 6.6.
The CIC topic related deficiencies were not considered serious enough to detention the ship.
A total of 24 flags, covering 9.8% of the total CIC inspections, had no CIC topic non-conformities.
Analyses by ship type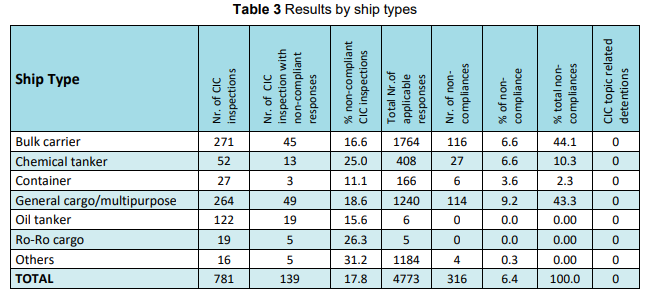 A total of 271 (38.2%) CIC inspections concerned bulk carriers ships, followed by general cargo/multi-purpose with 264 (33.2%) inspections, oil tankers with 122 (15.6%) inspections and chemical tankers with 52 (6.6%) inspections, which comprises 736 (94.2%) total CIC inspections.
Majority of inspection with non-conformities observed were general cargo/multi-purpose ship with 102 (56.7%) inspections, bulk carriers with 48 (13.7%). Although they constituted only 81.3% of all inspections, they accounted for 85.7% of CIC-topic related detentions and 88.1% of related nonconformities.
Analyses by ship age
Ships under 15 years reported the most favourable results but the situation worsened as the age of ships increased.
Percent of total non-compliances younger 0-5 age ships higher 20.25%.
Older ships 25-29 ages lower per cent of total non-compliances.
Percent of non-compliant CIC inspections is higher 22.4% ships over age 30 years old.
Analyses by ship flag
A total of 781 individual ships from 55 flag administration subjected CIC inspection during the campaign.
Most inspections were carried out onboard ships flying the flags of Panama with 128 (16.39%) inspections, Marshall Islands with 90 (11.52%) inspections, Malta with 80 (10.24%) inspections.
Antigua and Barbuda Bahama, Norway and Netherland showed best results.
Recommendations
Non-compliance of the exhibition of navigation/signal lights in accordance with the requirements of MARPOL Annex VI is a significant potential danger to the environment. Thereby, it is recommended:
Basic findings of the report in general, analysis of the responses to the questionnaire and breakdown of major non-conformities by ship flag, ship type to be submitted IMO III Sub-Committee.
Master and crew familiarity with essential shipboard procedures in the approved VOC Management Plan relating to the prevention of air pollution from ships.
PSC Officers should be instructed to submit CIC Questionnaire for each initial PSC inspection during the campaign; and
Continue to put emphasis on the vital requirements of the MARPOL ANNEXES when performing PSC inspections, particularly the requirements that raised the most concern in the CIC MARPOL Annex VI.
Explore more herebelow: