This time of the year, the Mississippi River may experience high water levels due to the melting snow in the upper Mississippi Valley. As a consequence of the meltwater, increased currents can be expected.
Therefore, the Independent Maritime Consulting launched a report explaining the challenges arising when anchoring and mooring in the river.
Typically peaking between February and May, but also occurring at other times during the year, the Mississippi River experiences high water levels and increased currents due to heavy rainfall and melting snow in the upper Mississippi Valley.
In efforts to reduce any potential risk, follow the tips below:
Ensure the vessel's windlass and anchor equipment are in best condition prior to arrival to the Mississippi River. Typical areas of weakness typically include: loose or worn guillotine stoppers and pins; worn anchor links close to maximum allowable diminution by Class; fatigued or worn components of the winch motor and gearing; worn HPU components and sticking pressure  relief valves; and, worn brake bands and/or pads, etc.
Check with local agents, US Coast Guard (USCG) and the US National Weather Service for latest information on river conditions, forecasts, and any restrictions in place. Typical high river restrictions include mandatory pilotage and tug requirements for deep draft vessels at anchor, daylight only transits and speed limits, oneway traffic restrictions, daylight only berthing requiring line boat operations, increased spacing, and head-up docking only.
When anchoring in ongoing conditions of high water and high current, the anchor and chain may become immersed in the Mississippi River's soft muddy bottom and more difficult to heave, essentially becoming stuck. Also dragging anchors are more likely to snag on riverbed debris. To help prevent this, the vessel should heave and re-anchor every few/several days, according to pilot's advice (this varies at each anchorage and river conditions at the time).
Re-anchoring may involve additional cost of pilots and tugs. Again, this should be discussed with the pilot after anchoring and will depend on existing conditions and any local restrictions in place at the time.
USCG requires that during high water all deep draft vessels must have three means to hold position, unless moored to a shore side facility or mooring buoys. An example would be two fully operational anchors and the propulsion system. However, should a vessel lose an anchor, or propulsion, then a third means of holding position would be required. In practical terms, this obligates a vessel to engage an assist tug.
There are many deep draft midstream buoy terminals on the Lower Mississippi River offering non-stop cargo handling services (loading and unloading to/from hopper barges) via high capacity floating crane barges; In addition to the strong river currents they become more risky and parted moorings, lost chains and anchors, and breakaways routinely occur each year.
Therefore, one can follow the steps below to mitigate the possible risks:
In addition to anchoring in the conventional open spread moor with both anchors, the berthing arrangement should aim to stabilize the vessel via a set of anchored mooring buoys; typically, three at the bow and two at the stern.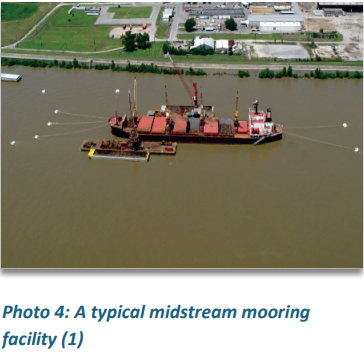 Vessels should ensure that enough moorings (including spares) of adequate length (up to 220 meters for some facilities) are readily available for rapid deployment if necessary.
It is imperative that the anchors and moorings are constantly monitored and adjusted as necessary. Anchors should take equal amount of strain and moorings should be maintained tight for stabilization.
Changes in the vessel's trim, draft, and positioning of floating cranes and barges on both sides of the vessel can all influence the loads acting upon the vessel's hull and must be monitored closely so that necessary adjustments can be made to avoid an incident.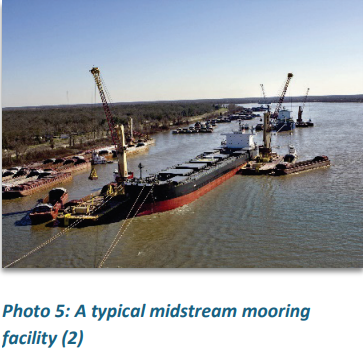 Should excessive yawing or fishtailing occur then the anchors and moorings can experience repeated high load cycles (fatigue) and/or become overloaded resulting in premature failure. Such excessive vessel movements while moored must be acted upon swiftly by a well-trained and instructed crew by adjusting anchors, moorings, trim and barge position. Further actions may require the use of the vessel's main engines, tug assistance, pilotage and possible re-anchoring/mooring. The crew should not hesitate to request assistance from the terminal if necessary.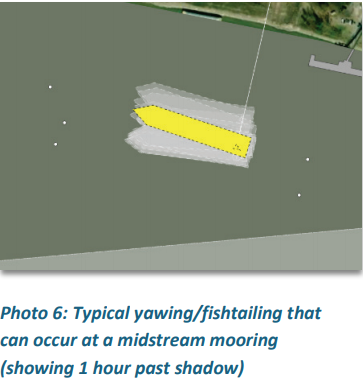 In reference to the risks above, the Independent Maritime Consulting issued recommended actions for safer operations. Click herebelow to learn more
See also accidents at the Mississippi river: