There is no doubt that many times hazardous situations surround the organizations' operations, increasing the risk for a catastrophic failure during their day to day operation. A High Reliability Organization operates in such a manner that error rate is low, despite the difficulties and risky operations.
Key elements for a successful HRO
Speaking during the 2018 SMART4SEA Conference, Frank Coles said that HROs are necessary for cyber security and the adaptation to the new world. However, these organizations should feature a strict culture of excellence. This will correct deviations before disaster, creating a deep awareness of vulnerabilities.
Aviation, ATC, nuclear power plants, the space flight already know one disaster can create catastrophic consequences
The shipping industry may not need to be at the same level as the space flight, Mr. Coles notes, but it definitely needs to think that in order to be cyber secure, it must work towards a high HRO.
In this industry, in order for an organization to be considered as a High Reliability Organization, it should first ensure that its actions are conducted in such a way to avoid failures.  To accomplish a reliable profile, it is important to focus on the following factors:
#1 Leadership
Leaders -or organization's top management- are responsible to not only consider the problems arising, but also act accordingly and have an overall picture of operations performance. It is essential to conduct audits at offices and onboard as a method of keeping themselves updated on major issues that help them balance commercial operations with a safety culture.
[smlsubform prepend="GET THE SAFETY4SEA IN YOUR INBOX!" showname=false emailtxt="" emailholder="Enter your email address" showsubmit=true submittxt="Submit" jsthanks=false thankyou="Thank you for subscribing to our mailing list"]
Top management in shipping companies is consisted of experienced personnel which can provide other staff with information and precautions; inspire them to make the right decision and ensure safety and immediate response to unexpected events. Leaders enable communications among employees and with the organization's top management, if needed, in order to prevent decisions that may lead to failure.
#2 Attitude
High Reliability Organizations operate proactively, aiming to prevent failures. Shipping companies that want to act as HROs demonstrate an attitude based on indicators developed by real life incidents or lessons learned from accidents. Roles and responsibilities are clearly defined, and staff is always trained properly. Each training session derives not only from industry regulations and skill requirements but also from experience and errors that led or could have led to an unfavorable situation. This may contain a major solution of preventing future incidents. Additionally, examples of good management or successfully conducted operations may be used to indicate the positive aspect of such activities.
#3 Culture
Another important factor which shipping organizations should bear in mind in order to be considered as HROs, is their overall behavior, or in other words, their culture. The idea of openly reporting every incident or near miss should be promoted to help the organization focus on such problems, in order to prevent similar issues in the future. Except for issues concerning material inadequacies or wrong working design, the culture of an organization focuses on issues related to unacceptable or unsafe behavior.
A 'No Blame culture' should cover the reporting and the use of incidents to spread knowledge and solutions for preventing them from happening again. This is a key parameter for culture development. Such items supplemented by a 'leading by example' approach by Top Management and middle level managers, forms the frame of culture within a High Reliability Organization.
[caption id="attachment_21171220" align="aligncenter" width="696"]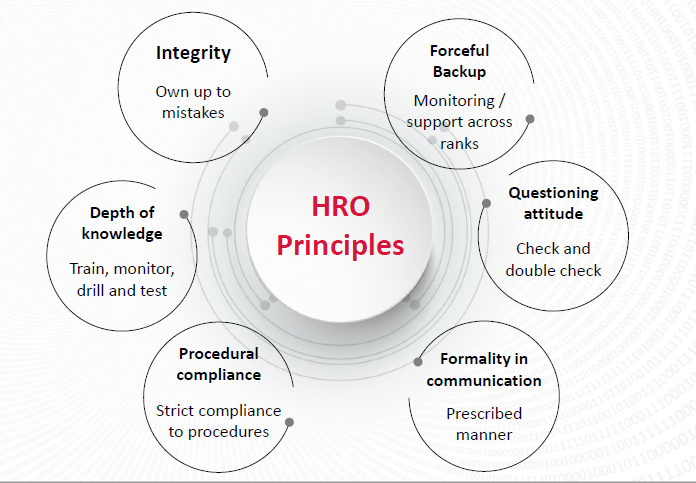 Above image was featured in Mr. Frank Coles' presentation during the 2018 SMART4SEA Conference[/caption]
Overall, the path toward a HRO is a combination of the factors mentioned: leadership; safety culture and an attitude that focuses on continuous improvement and lessons learned. However, the road to high reliability differs from one organization to another, as each one faces different situations and the human factor makes each situation unique. Despite these facts, creating a solid base for improvement and continuous learning could be a momentum from where a HRO can be built.