University of Manchester issued a new research marking that international shipping has to act now to play its part in meeting the Paris Climate Goals.
It is known that shipping is overwhelmingly reliant on fossil fuels, with annual carbon dioxide emissions equivalent to a country the size of Germany. Actions to reduce its emissions are therefore an important element of global efforts to combat climate change.
According to Tyndall Manchester's report, significantly stronger short- and longer-term targets need to be set for the sector to be compatible with the Paris Agreement's goals. Namely:
34% reductions on 2008 emissions levels by 2030
zero emissions before 2050, compared with the sector's existing target of a 50% cut in CO2 by 2050
To remind, the 2015 Paris Agreement sets out goals to prevent dangerous climate change, aiming to limit global temperatures rise to well below 2°C above pre-industrial levels, while pursuing efforts to keep below 1.5°C (United Nations, 2015).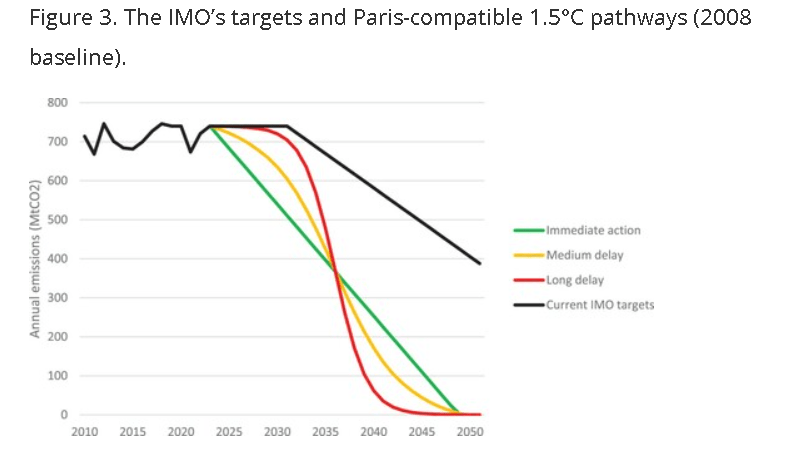 Key insights:
There is a gap between targets set out in the IMO's Initial Strategy and what is needed by the shipping sector to be Paris-compliant.
Paris-compliant targets require a 34% reduction in emissions by 2030, with zero emissions before 2050.
Existing targets imply no absolute reduction in emissions to 2030, and only a 50% reduction by 2050.
The longer the delay in setting new targets, the steeper subsequent decarbonization trajectories become. Delay beyond 2023 would necessitate an untenably rapid transition, given long shipping asset lifetimes and global requirements for new land-side infrastructures, increasing the mitigation burden on other sectors.
Crucially, strengthening the target by the IMO's strategy revision date of 2023 is imperative. The long asset lifetimes of ships and shipping infrastructure limit the speed of transition such that a delay of even a few years will dictate an untenable rate of decarbonization and increased risk of pushing the already challenging Paris goals out of reach.
….the report notes.
Overall, report's experts urge that is time for the IMO to grasp the nettle of what 'at least' means in its target setting and face head-on the stark gap between what it is currently proposing and what is needed to be Paris-compliant.