The nature of work in shipping can be harsh with increased workload and stressful situations. Employee engagement is a complex task; when people's skills exceed the amount of challenge in their work, they lose interest, but when the challenge is too high, they are stressed. Where does the fine balance lie?
The situation in which one's skill level and the challenge at hand in the task are equal is broadly described by the psychology term "flow", a mental state of highest concentration where the individual achieves best productivity. First unveiled by Dr. Mihaly Csikszentmihalyi, one of the pioneers of positive psychology
Flow is "a state in which people are so involved in an activity that nothing else seems to matter". The ego falls away. Time flies. Every action, movement, and thought follows inevitably from the previous one, like playing jazz.
…as he explained in an interview to Wired magazine.
But why is flow important? On the one hand, boredom at work is a universal phenomenon and shipping makes no exception. On the other hand, shipping is a heavy industry with unique challenges, both for people working onboard and ashore. By losing yourself in something you enjoy, you accomplish what most working people globally are struggling to achieve: To stop struggling about work while increasing quality output and to get the feeling of achieving thing rather than just keeping busy.
In line with an increasing discussion across business on soft skills and their importance in the modern workplace, flow is also a non-technical skill, that requires time and training to develop, since it has little to do with knowledge or expertise. Keywords here are motivation, engagement, and a balance between challenge and skills. If the task is too easy or too difficult, flow cannot occur, as both skill level and challenge level must be matched and high; if skill and challenge are low and matched, then apathy results. In this respect, the Flow Model is considered as a way to well-being, creativity, and productivity and a key component of eudaimonia, in an intrinsically rewarding sense; the more you practice it, the more you seek to replicate these experiences, which would develop a fully engaged and happy life.
How can I know that I am experiencing flow?
Broadly explained, here are some of the main characteristics of the flow experience:
-Maintaining concentration for a sustained period of time: Flow describes being completely absorbed in the activity itself.
-Losing sense of time: Time usually passes quickly when absorbing yourself in a self-fulfilling activity.
-A high feeling of intrinsic reward: Flow is in line with the idea of ancient Greek "autotelic", defined by Csikszentmihalyi as an intrinsically rewarding and pleasant experience, which builds the motivation to return to a flow state.
-Ignoring body needs: The hyper-focus makes you forget about hunger and tiredness.
-Achieving increased feeling of control over the task: Flow is characteristic of a liberating state from worry over control.
-Experiencing a balance between ability and difficulty: If one's perceived skill weighs more heavily than the task's perceived challenge, flow probably won't occur.
-Feeling some ease: You can know you are experiencing flow when you feel a sense of effortlessness.
-Getting direct and immediate feedback: Unambiguous feedback, as explained by Csikszentmihalyi, allows for adjustments on performance to reach goal accomplishment.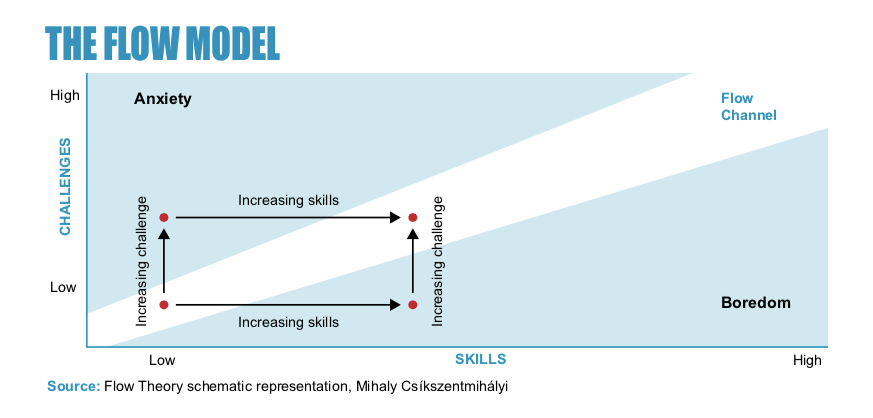 #5 ways to achieve flow
Choose a task you love: How can you absorb yourself in a task that you do not enjoy? Also take into consideration that the importance of your task for your career in the long-term, because it will ad a bigger sense of self-fulfillment.
Leave distractions away: The golden rule to achieve highest concentration is to a priori remove distractions that typically disrupt the experience, such as your smartphone. You may also find it helpful to clear your desk from miscellaneous objects that give impression of untidy environment and may affect your focus.
Don't go alone: Research has confirmed more successful flow experiences in social activities that include group interaction compared to solitary activities. The so-called "group flow" works better when there is an open communication and active listening among team members.
Focus on self-confidence: If you lack confidence in your abilities, tasks may seem much harder than they actually are.
Set goals: Learning to set effective goals can help you engage more, thus achieve the focus required to build flow.
How can employers cultivate flow in the workplace?
Shipping organizations are well aware that employee engagement has a direct implication on the overall efficiency, especially taking into consideration the complex procedures characterizing the sector. A good start would be:
#1 Invest in a good work environment: A pleasant, or even exciting, workplace is the A and Z for more focused employees. If management can create an environment where employees feel fulfilled, then retention and performance will follow.
#2 Provide responsibility: Giving people the capability to get in the driver's seat gives them the chance to increase flow by engaging more seriously.
#3 Balance Challenge and Skill: Always have in mind the line between boredom and struggling for your employees.
#4 Create shorter and more visible challenge-and-reward cycles: In line with the increasingly discussed strategy of gamification, business leaders should bear in mind that people's turnover is not necessarily about the money; it's more about achievement.
#5 Avoid micromanaging: Put an emphasis on strong organizational structures with careful planning and open communication among team members. Engage people with less meetings and less emails, stop the culture of overwhelming and give small chunks of work at a time.