The Mission to Seafarers in support of the Shipowners Club launches its Q3 2019 "Seafarers Happiness Index" highlighting that there has been an improvement of seafarers' wellness onboard vessels, presenting an increasing to 6.59/10 from the previous 6.27, marking a promising and better future in respect of the seafarers and their life onboard.
The Index is made up of a standard set of ten questions and these cover key areas to measure how happy seafarers are about the various elements of their working life.
The majority of the respondents were from the Indian Subcontinent, with South East Asia the next best representation, a natural reflection of the global manpower picture.
Indian Subcontinent 45%
South East Asia 24%
Western Europe 9%
Eastern Europe 9%
North Asia 5%
North America 3%
Oceania 2%
Africa 1%
Central America 1%
Middle East 1%
South America 0%
Similarly to the results of Q2's Happiness Index, the age group of 25-35 were the most satisfied, with a very high 7.9/10 reported.
Those over 45 returned happiness levels in excess of 7, a marked turnaround from last time. However, the youngest age range proved to be the happiest
Those working onboard bulk carriers were the most satisfied, reporting an average general happiness level of 6.53, with container ships at 6.16 and tankers 6.14, respectively, something uncommon in comparison to the previous reports.
Also, ro-ro vehicle carrier crews were the most reportedly upbeat, whereas ferry and cruise ship crews were a bit happier, increasing from previous quarter's 5.3/10 to 6.3.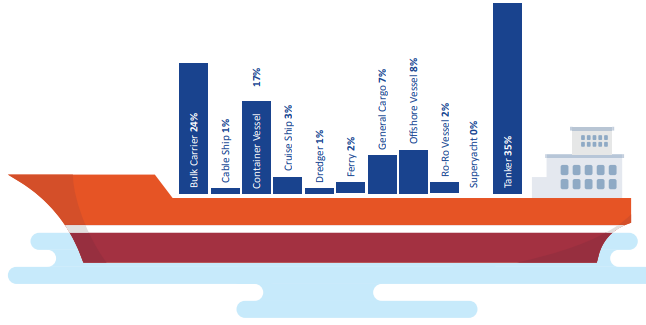 When it comes to gender equality in the shipping industry, the report highlights the imbalance that still exists, with the striking 96% of seafarer-respondents being male and a 2% female. However, the results this quarter even saw a rise in female seafarer happiness, as their responses climbed to 6.58/10.
---
The survey questioned seafarers on challenging matters, from how happy they are to the connection they have with their families and friends when they're onboard.
How happy generally when at sea? – 6.37 ↑ from 6.21
Although the improvement is obvious, according to the report, some of the respondents took their time and commented on some issues they have been dealing with.
#1 Criminalization: Reading between the lines of some responses, it seems that some seafarers may have been caught in issues relating to sanctions toward certain flags and feel they have been punished for the mistakes of others.
#2 2020 Sulphur cap: Seafarers expressed their concerns on the upcoming regulation due to the inability of always having the correct data and the following inspections.
#3 Favouritism: There was also rather pointed criticism of some management styles onboard
According to one respondent, seafaring is not what it used to be in the early 2000's. Wages have reduced or stagnated, while there have been drastic cuts in budgets, as well as the crew on board
… the report adds.
How happy with your work load? – 6.16 ↑ from 5.73
Those who expressed positives, praised their shipmates for rallying together to get things done and those ashore who recognised when support was needed and made sure the vessels received it. There was more frustration at the proliferation of paper work and administrative tasks, while the fact that work load often precludes access to "decent shore leave" was heard again, numerous times.
It was stated that crew are left feeling they have no voice and no power to help guide or improve the situation.
How happy about the training you receive? – 6.91 ↑ from 6.53
The respondents discussed about the cost and time and specific demands of some sectors arose as a contentious issue.
How happy about interaction with other crew on board? – 7.28 ↑ from 6.85
The 7.28 is one of the highest results in the last 5 years;
Those who had good feelings about their fellow crew spoke in terms of positive interaction, older seafarers being willing and able to share experiences and to teach others. There was also a big focus on the importance of regular social events to build camaraderie and boost morale.
On the negative perspective, seafarers talked about:
Ships with empty recreation rooms;
where there are rifts between departments, ranks or nationalities are where seafarers struggle the most, and where happiness is in very short supply.
Louise Hall, Director – Loss Prevention at the Shipowners Club commented
The positive results from this quarter's Seafarers Happiness Index demonstrates the effectiveness of this initiative, and its associated outreach projects, in improving the quality of life for those at sea.
How happy about access to shore leave? – 6.16 ↑ from 5.97
Given that stress, fatigue and mental health are significant issues and the fact that senior officers suffer greatly from heightened pressures, it was very concerning to read some responses from senior ranks.
How happy about wages/salary? – 6.57 ↑ from 6.23
This is surprising as salaries have often been one of the more contentious and problematic areas of concern for seafarers.
Of particular concern was the fact that many junior officers felt that their salaries were too low and they felt unsure of whether they would still go to sea by the time their ranks and wages rose.
How happy about the food on board? – 6.77 ↑ from 6.34
Happiness, in this regard, seems to constantly rest on three key issues:
the skill of the cook
the budget allocated
the quality of the food which comes onboard.
Even the best cook cannot make good meals if the budget is low and there are only below par stores to deal with.
How happy about your ability to keep fit and healthy on board? – 6.84 ↑ from 6.45
With good recreational and gym equipment onboard, and with some time to use it, that is what makes seafarers happy.
Combining the issue of nutrition and health with physical fitness, there were some calls for owners to provide dietary supplements to help ensure crew were kept in good condition.\
How happy about contact with family when at sea? – 6.82 ↓ from 6.88
In a historic Seafarers Happiness Index of positive results, the issue of connectivity and contact with family was the only downward trend recorded. Those who have access to the internet, Wi-Fi and calls are "very, very happy". Sadly, there are simply too many who do not.
As one respondent stated, "Sailing for 22 years now and unfortunately, life at sea doesn´t get any better. There is wider and wider gap in communication possibilities between shore and ships, regarding mails and internet is feels like shipping industry still stands in 1990."
Steven Jones, Founder of the Seafarers Happiness Index, concluded that
The Mission to Seafarers has been contacted by several cruise ship operators following the release of the last report. It is a very positive sign to see the results from the index being taken seriously by the industry.
Overall, in respect of the seafarers, the Mission to Seafarers has launched a new website to act as a repository for the data collected during the survey, in order to create an open framework for improvement which shipping companies can adhere to in order to build a sustainable workforce. See more here.
To explore more, click on the PDF herebelow