Graphic Products' Alison Warner designed an infographic presenting all the dangers that are lying behind the oil and gas industry. The equipment, the flammable chemicals and high pressures can easily result to fatal accidents. The oil and gas industry is amongst the most dangerous jobs in America, this is why it has one of the most thorough safety training programs.
For full view of the infographic, click herebelow.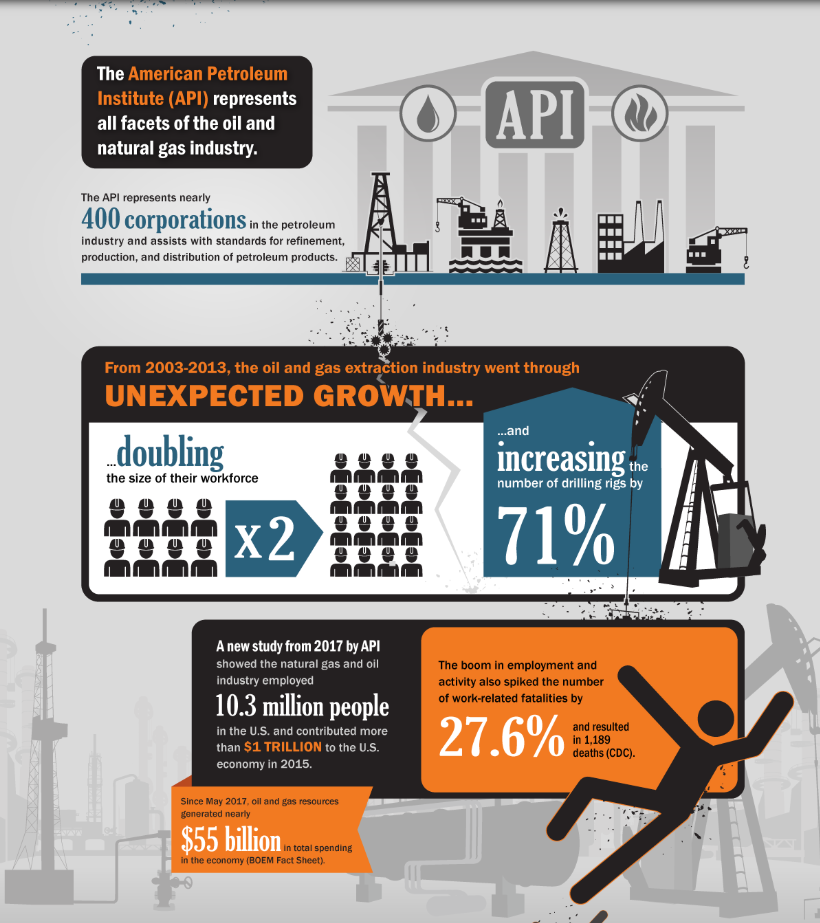 As presented above, according to the CDC, the fatality rate was 7x higher compared to all other industries in the U.S. from 2003-2010.
From 2003-2013, the oil and gas extraction industry went through unexpected growth doubling the size of their workforce and increasing the number of drilling rigs by 71%.
A new study from 2017 by API showed the natural gas and oil industry employed 10.3 million people in the U.S. and contributed more than $1 trillion to the U.S. economy in 2015.
However, the leap in employment and activity also spiked the number of work-related fatalities by 27.6% and resulted in 1,189 deaths.
In addition, the  biggest threats to Oil Rig Worker Safety are:
Human Error
Worker Culture
Recklessness
Negligence
Lack of proper personal protective equipment (PPE)
Miscommunication
Misuse of equipment
Moreover, in light of the fatal Deepwater Horizon incident, the US Department of the Interior formed two new independent agencies to be responsible for offshore energy management and enforcement; The The Bureau of Safety and Environmental Enforcement (BSEE) and the Bureau of Ocean Energy Management (BOEM).
Concluding, the infographic also presents the top 5 events that resulted to the most fatalities in the US Oil and Gas extraction industry in the timeframe of 2003-2015:
Transportation: 479 deaths (40.3%)
Contact injuries: 308 deaths (25.9%)
Fires/Explosions: 170 deaths (14.3%)
Exposure to harmful environments: 105 deaths (8.8%)
Falls: 97 deaths (8.2%)
Other: 30 deaths (2.5%)