The new edition of Stable Seas Maritime Security Index is released, attempting to measure and map good maritime governance around sub-Saharan Africa. This edition covers 30 exclusive economic zones (EEZs) around sub-Saharan Africa from the mid-Atlantic to the Gulf of Aden.
Countries in this region experience many maritime security challenges and in order to overcome, international coordination and careful consideration will be needed.
Stable Seas Maritime Security Index provides nine aspects of good maritime governance:
International cooperation;
The rule of law;
Maritime enforcement capacity;
Coastal welfare;
Development of the blue economy;
Fisheries;
Piracy and armed robbery at sea;
Illicit maritime trades;
Maritime mixed migration.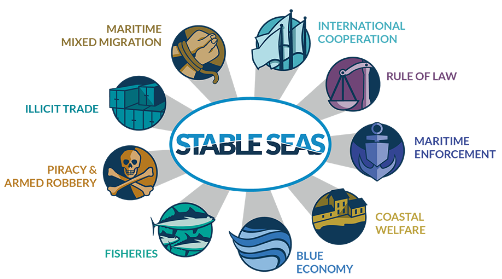 The new edition also scores the countries, depending on their performance. The scores have been concluded after reveiwing publicly available data, as well as extensive collaboration with African militaries and governments, international organizations, African and Western non-governmental organizations, and other stakeholders.
Cape Verde and Namibia have the best score in the Index, with 72 out 100, followed by Seychelles and Mauritious with 70 and South Africa with 69.
The worst performance is recorded by Somalia with 36 out of 100, followed by Nigeria with 47, Benin with 48 and Liberia along with Congo with 49.
The index indicates that the waters in the Gulf of Aden and around Somalia, are among the least stable on the planet. Besides the threat of Somali pirates, a number military vessels have been targeted and hit by anti-ship missiles by militants in Yemen. These events can affect negatively international shipping traffic through the Red Sea, which is among the world's most important global transportation checkpoints.
Moreover, the Gulf of Guinea probably faces the world's most severe maritime security challenge. Tremendous natural resources, close to onshore violent non-state actors, and limited maritime law enforcement capabilities make countries vulnerable to piracy, crude oil-related crime, smuggling, and more maritime crime.
You can learn more information in the PDF herebelow