Greece remains the world's largest shipowning nation, with a fleet of 4,901 vessels, while greek shipowners control 19.42% of global deadweight tonnage (dwt).
In 2020, the Greek-owned fleet grew by over 4% to approximately 364 million dwt.
The backbone of EU shipping: Greece continues to increase its share of the European Union (EU)-controlled fleet. The Greek-owned fleet represents 58% of the EU-controlled fleet. More than a third of the Greek owned fleet or 1,706 vessels, fly an EU Member State flag.
Greek shipping is a cornerstone of global seaborne trade: Greek shipowners control:
30.25% of the world tanker fleet
14.64% of the world chemical and product tankers
15.58% of the global LNG / LPG carriers
20.04% of the world bulk carriers
9.53% of the world containerships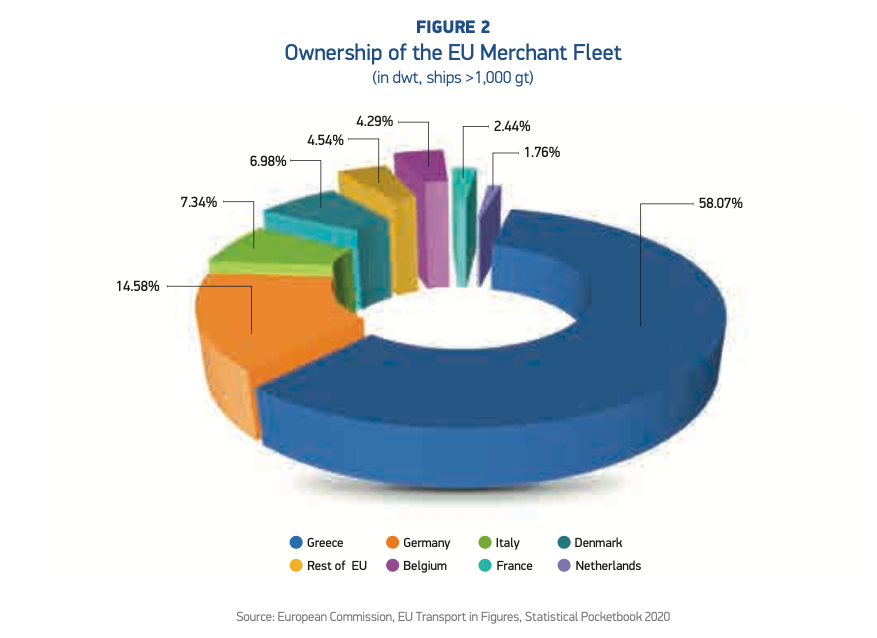 Greek shipowners continue to invest in newbuildings: Newbuilding orders by Greek interests in 2020 amounted to 104 vessels (over 1,000 gt) or 14.36 million dwt, which represents 10.99% of global tonnage on order (Figures 4 & 5)5. Greek shipowners continue investing in new and energy efficient ships, with the average age of the Greek-owned fleet (9.54 years) being lower than the average age of the world fleet (9.87 years).
Greek shipping is among the safest in the world: Greece remains on the International Maritime Organization (IMO) "List of confirmed Standards of Training, Certification and Watchkeeping for Seafarers (STCW) Parties" and on the White Lists of the Paris and the Tokyo Memorandum of Understanding, while it is one of the safest fleets worldwide with 0.44% of the Greek merchant fleet (based on number of ships) and 0.50% of the fleet (based on tonnage) being involved in minor accidents. From 1.7.2021 Greece is included in the Flag Administrations List of the U.S. Coast Guard (USCG) QUALSHIP 21 Program.
Greece remains one of the leading ship registries in the world: The Greek Register numbers 685 vessels (over 1,000 gt) amounting to 37.98 million gt. The Greek-flagged fleet ranks 8th internationally and 2nd in the EU (in terms of dwt).
Despite COVID-19, Greek shipping remains one of the main pillars of the Greek economy: The COVID-19 pandemic severely impacted the receipts in the country's Balance of Payments from maritime transport services, which despite exhibiting a 20.16% decrease compared to 2019, amounted to approximately € 13.81 billion for the fiscal year 2020.