Gard Club has recently published an updated Guide on Stowaways describing the issue, relevant regulations, port prevention, humane handling and the risk of stowaways.
In preparation of the guide, Gard Club reviewed the trends over the last several years. The International Group of P&I Clubs (IGP&I) carries out regular data collection exercises in respect of stowaways. Based on claims experience within all the member clubs, locations where stowaways are a common problem are identified along with the nationalities of persons stowing away and the average cost of stowaway incidents.
Incident trends and regional hot spots
While the IGP&I data collection is primarily meant to compliment the stowaway cases reported to the IMO in its Global Integrated Shipping System (GISIS), it is worth noting that the number of incidents recorded by the IGP&I is generally higher than the those submitted via the IMO-system. However, even if the IMO GISIS data are more moderate in terms of the total number of incidents and stowaways, some of the observed trends concerning regional 'hot spots' for stowaway, as well as stowaways' nationalities are very similar to those identified in the IGP&I data.
The IGP&I and IMO GISIS data for the period 2013 to 2022 show the following trends:
Overall incident trends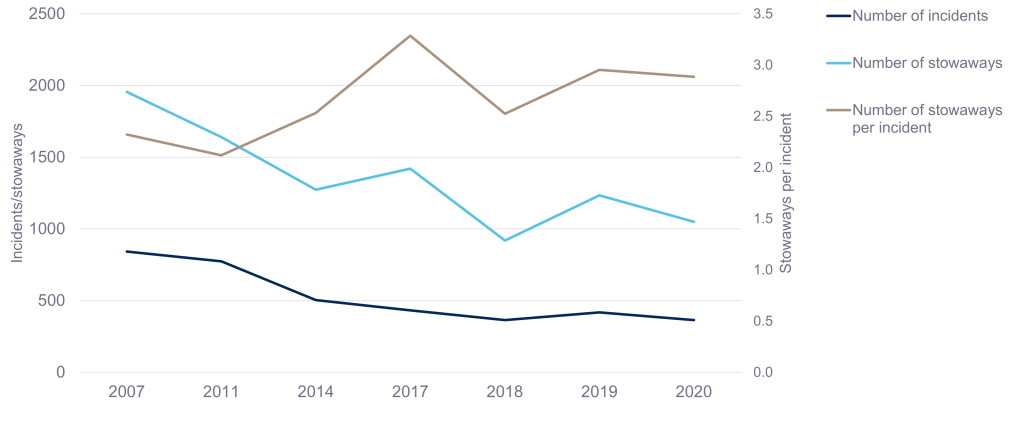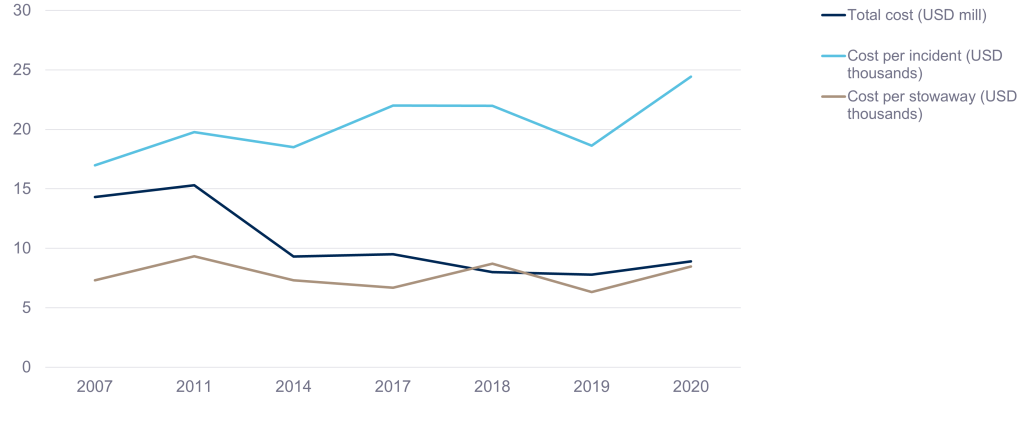 The number of stowaway incidents has more than halved since IGP&Is carried out its first data collection exercise for the 2007/8 policy year but has remained fairly level over the past five years.
The total number of stowaways involved has also decreased, but not at the same rate as the incident figures. This means that the number of stowaways per incident has been growing, and the data would seem to suggest that the current average is close to three stowaways per incident.
Whilst the total cost net of deductible including fines imposed by states on shipowners, has dropped, the cost per stowaway incident, as well as per stowaway, has risen. It is also important to note that the cost to shipowners is higher than that incurred by the Clubs as, in addition to their deductible, shipowners are likely to incur other costs, which are not insured.
Regional hotspots, by region of embarkation
Ports on the African continent continued to be the main hot spots for stowaway embarkations, even if the overall number of incidents reported from ports in Africa have decreased.
European ports started to feature in the statistics in 2017 and the number of incidents reported from the European continent has remained high thereafter.
Top five countries of embarkation 2018 – 2022
African continent
European Continent
The rate of stowaway embarkations in South African ports, which historically have been considered high risk ports, has fallen. The same goes for ports in some of the West African countries. However, the port of Durban in South Africa, and West African ports such as Lagos in Nigeria, Conakry in Guinea, Dakar in Senegal, must still be treated as ports with high risk of stowaways.
It is well known that many North African countries have become major transit points for African and Arab migrants trying to reach Europe to escape war and poverty and there is a clear upward trend in the number of incidents reported from the Maghreb region of North Africa, particularly from the port of Casablanca in Morocco and Rades/Tunis in Tunisia.
The majority of stowaway embarkations in Europe were reported from ports in Greece and Turkey, but also ports in France and Belgium that are facing the English Channel were popular spots for persons attempting to stow away.
Key reminders
Prevention is always better than cure, and this is especially true in cases involving stowaways. Any master who has had to deal with a stowaway situation on board will agree that time and money invested in preventing stowaways from boarding a ship is time and money well spent.
It should not be forgotten that the processes of disembarkation and repatriation of stowaways will always be closely linked.
Before taking any steps such as disembarkation, the Guide recommends that the masters/shipowners do not hesitate to request Gard's or P&I correspondents' advice.
The Guide also reiterates the importance of adhering to IMO standards and recommended practices when it comes to security arrangements and procedures to prevent and handle stowaways.
The basic principles set out in the IMO guidelines on stowaways and supported by the security approach of the ISPS Code:
Cooperation to prevent incidents
Security measures to prevent stowaways from boarding
Proper onboard searches prior to leaving port
Humanitarian treatment of stowaways
Cooperation to repatriate stowaways
Disembarking counties' responsibilities and rights on dealing with illegal immigrants
International protection principles for dealing with asylum seekers
Cooperation to disembark stowaways
Countries' acceptance of return of its nationals/citizens
Embarking country's acceptance of return of stowaways when nationality and citizenship
cannot be established.