The galley is one of the most critical compartments on board providing to crew members (and if applicable to passengers) the required food and beverage services daily. Maintaining the proper quantity and a high quality of food and beverage is of highly importance for the crew members considering that both their performance at work and health depend on. Galleys are subject to MLC inspections, therefore, they must be kept in such a condition so that could not cause food borne diseases, which can put vessel and crew in danger and consequently shipowners to face unexpected costs.
Any food spoilage or contaminated food can cause food poisoning, therefore, it is vital for galleys to follow proper hygiene in order to maintain food of high quality. Even if the loaded food is safe, this does not ensure that it will remain safe during the storage, preparation, cooking and serving activities that follow on board. The main risks to food safety in the galley, pantry and service areas are related to the following:
Biological hazards (bacteria, viruses, fungi and parasites)
Biological hazards occur when bacteria, viruses, moulds, yeasts or parasites contaminate food. These organisms are commonly associated with humans and with raw products entering food preparation sites. Therefore, raw ingredients in the galley are high-risk factors. Storage time and temperature of food, and awareness and implementation of hygienic practices by food handlers on board ship also play a significant role in food safety.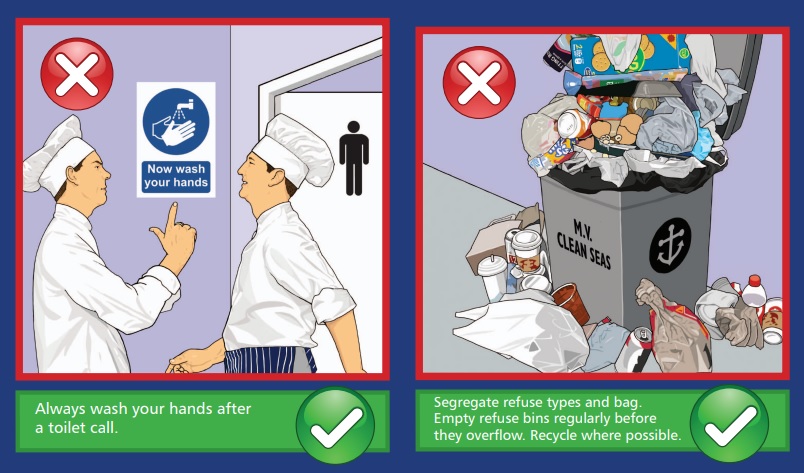 Chemical hazards (e.g. cleaning agents)
Chemical contamination of food may inadvertently occur 'naturally' before loading or during processing (e.g. by the misuse of cleaning chemicals or pesticides). Examples of naturally occurring chemicals are mycotoxins (e.g. aflatoxin), scombrotoxin (histamine), ciguatoxin and shellfish toxins.
Equipment and utensils
The equipment and utensils contacting food are designed and constructed to ensure that, when necessary, they can be adequately cleaned, disinfected and maintained to avoid the contamination of food. Equipment and containers are typically made of materials with no toxic effects when used as intended. Where necessary, equipment should be durable and movable, or capable of being disassembled to allow for maintenance, cleaning, disinfection, monitoring and inspection for pests.
Major risk factors that contribute to food borne outbreaks on board ships are primarily associated with temperature control of food, infected food handlers, cross contamination, heat treatment of perishable food, contaminated raw ingredients and use of non-potable water in the galley. Some diseases can be transmitted from one country to another by infectious agents or contaminants due to poor control measures on board. Therefore, detecting contamination in the sources, preparation and processing of food, as well as in the service of food in mess rooms, is crucial for the prevention and control of foodborne disease.
Recommendations
In order to address the issues related with food the following five (5) important checks form a best practice guide:
Have written policies for food loading, storage, preparation. A food safety plan is a good solution;
Follow detailed personal hygienic rules. Posters and instructions always provide adequate guidance;
Storage compartments should be clean, free of pests or insects, with adequate temperature;
Catering personnel to be trained and focused on rules;
Health and safety issues in galley area to be highlighted during food preparation and equipment use.